Maintenance & Repair
---
Smoke ventilation saves lives and it is absolutely essential that your system is maintained and serviced on a regular basis to ensure that it works correctly when activated during a fire. Our experienced engineers are available countrywide to maintain and service your natural & powered smoke vent system.
Smoke Vent Systems Ltd. specialise in providing scheduled preventative maintenance. We are happy to conduct a site survey and advise you on the most suitable maintenance plan for your building, completely free of charge. We ensure that your system is kept in optimum running order and can repair and refurbish existing systems regardless of who manufactured or installed it. We will issue a test certificate for smoke control systems, and offer an out of hours call facility for customers with a maintenance contract.
Under The Regulatory Reform (Fire Safety) Order 2005 and The Fire (Scotland) Act 2005, systems need to be maintained to comply with current regulations and legal responsibility falls to the 'responsible person'. The 'responsible person' may be anyone who has control of premises or, who has a degree of control over certain areas or systems (e.g, an employer, a managing agent, an owner, an occupier or any other person who has some control over all or part of relevant premises) All of Smoke Vent Systems' maintenance and servicing conforms to the following regulations & standards: –
The Regulatory Reform (Fire Safety) Order 2005
Building Regulations – Approved Document B
BS7346
BS9999
BS9991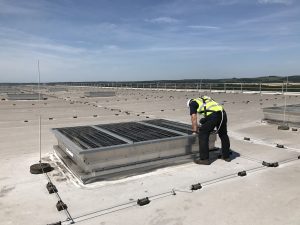 We now offer a simple online client area, providing access to maintenance schedules and commissioning certificates making management of your sites' life-safety systems easy and trouble free.